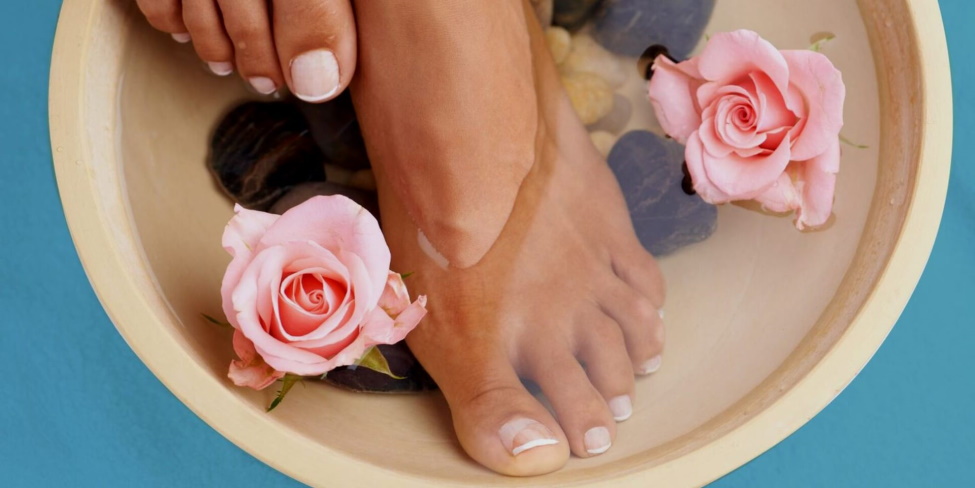 Home Pedicure: Tips To Help You Get The Result No Worse Than In The Salon
Are you dreaming of feeling like a celebrity but don't want to break the bank? Look no further – the solution lies in your hands! With our home pedicure tips, you can give yourself an amazing mani-pedi look that will have all your friends and family buzzing with admiration. Let's simplify how to replicate salon-quality pedicures right in the comfort of your own home – without needing any prior experience.
How to do a pedicure at home
You will need the following:
foot bath;
towel;
orange stick;
nail clippers with a large cutting blade;
nail file – natural nails should be medium or soft grinding, from 180 grit or higher;
cuticle remover – any that is sold in a cosmetics store is suitable for home care;
heel brush with different abrasiveness, always double-sided: coarser on one side, soft on the other;
cream and cuticle oil.

How to properly treat the feet: stages of the home procedure
1 A mistake people make is to rub their feet in the shower. It can hurt the skin and make your feet look bad. Instead, use a file on dry skin before you steam your legs. Unfortunately, some people who work at beauty salons may not know this rule and accidentally do it wrong.
2 Put your feet in a warm water bath for 10-15 minutes. Then, you can add shower gel, sea salt, essential oils, or herbal infusion to make it feel even better. It is a nice way to have a spa day at home and treat your feet!
3 You need a pedicure set to care for your nails and the surrounding area. Cut your nails into a rectangular shape and use the set to trim your cuticle. Do not cut them in one motion, or you may hurt yourself. The best time to cut them is after they have been in the water for a while.
4 Gently file the nail. Move it in one direction. Then use an orange stick or a metal spatula to move the cuticle. Finally, trim the cuticle with tweezers or scissors. Do it in one go, so you don't get any burrs.
5 Clean your nails with a degreaser or nail polish remover. It gets rid of any product that might still be on them. Then you can paint and put clear or special coatings on your nails.
6 Put oil on your cuticles to make them stronger and help your nails grow faster. Use jojoba, apricot, castor or almond oils. Put cream on your legs to keep them soft. Put lotion on your feet daily to look nice and healthy.
7 Finally, use a heel brush to exfoliate your feet. It is an important step that helps remove dead skin and keeps bacteria from growing. Start with the softer side before using the rougher one for better results.